The time allocated for each workshop will be 15 minutes: 12 minutes for the presentation and 3 minutes for questions. The Organizing Committee will decide which offered lectures to accept on the basis of abstracts submitted. Those wishing to offer oral presentations are asked to mark the registration form accordingly. Those presenting lectures should ensure that any text information presented visually is easily legible to their audience. 



to abstract submission page
Accommodation

The rooms has been held for the participants, who already registered for ISAM10 by June.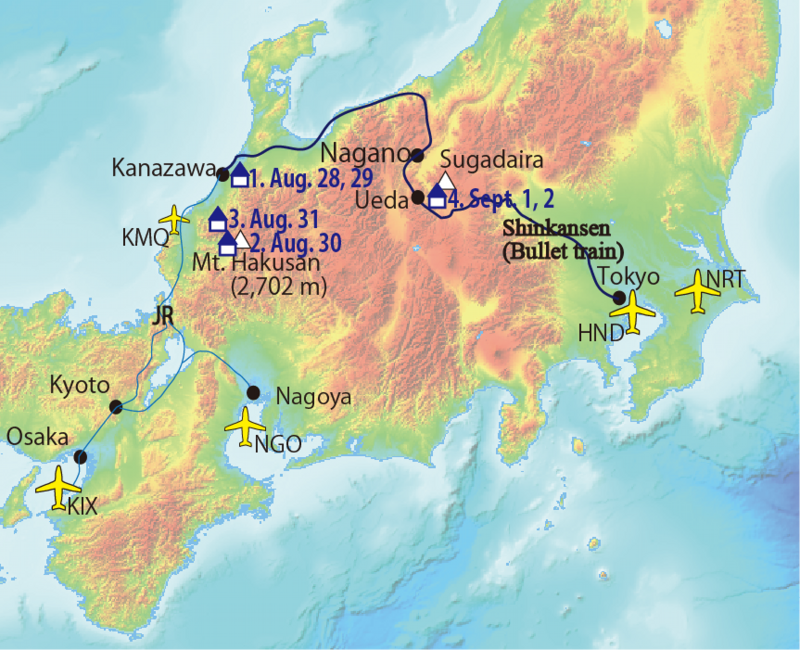 1. Kakuma Guest House in Kanazawa University, Aug. 28th and 29th
(Arranged by Dr. Nobuko Tsuno)
Kakuma Campus, Kakuma-machi, Kanazawa 920-1192, Ishikawa Prefecture
TEL 076-264-5275


Kakuma Guest House

2. Nanryu Sanso Lodge on Mt. Hakusan, Aug 30th
(Arranged by Dr. Ei Kawahara)
Nanryu-ga-baba Shiramine, Hakusan, Ishikawa Prefecture
(Reservation center TEl 076-259-2022)


Nanryu Sanso Lodge

3. Gozenso Hotel at the base of Mt. Hakusan, Aug 31st
(Arranged by Dr. Nobuko Tsuno)
112-3 Shiramine Tsu, Hakusan 920-2501, Ishikawa Prefecture
TEL 076-259-2224 FAX 076-259-2438


Gozenso

4. Sugadaira Montane Research Center, Sept 1st and 2nd
(Arranged by Dr. Yosuke Degawa)
1278-294 Sugadaira-kogen, Ueda 386-2204, Nagano Prefecture
TEL 0268-74-2002 (weekdays only), FAX 0268-74-2016
E-mail: jimu@sugadaira.tsukuba.ac.jp


Sugdaira